Experts in Fire Damage Restoration Serving Illinois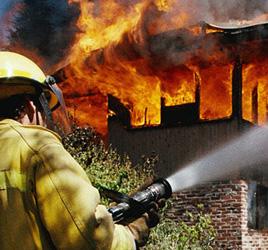 We can restore your property and your peace of mind with our fire damage restoration services in Illinois.
Fire damage can render your home or business unsafe and unusable, so it's important to get help on-site as soon as possible. Fire damage restoration and smoke removal is a complex task that should only be performed by a professional restoration company. Our staff has helped many families and property owners throughout Illinois with all of their fire damage restoration needs, and we can help reduce your stress as much as possible!
At Illinois Water & Fire Restoration, we offer free estimates for homeowners and property managers interested in restoring their fire-damaged home or business. Each estimate includes a written quote, a professional inspection, and an on-site consultation where we address any questions you may have. Call us to get a quote in Joliet, Plainfield, Naperville, Bolingbrook, Romeoville, Mokena, Homer Glen, Frankfort, Shorewood, New Lenox, Aurora and surrounding areas in Chicagoland.
We offer solutions for:
(Click for more information about each solution.)
The direct damage from any fire is caused by the fire itself, as well as the immediate heat damage from the fire.
Fire will char anything it touches. Noncombustible objects may melt, and paint and wallpaper will peel. Some fires leave corrosive substances behind when they're extinguished that can damage wood, plastic, metal, and other substances.
While fire may damage only a small area, smoke will permeate far and wide in a structure.
High temperatures during a fire can open pores that will bring the smoke deep inside your building materials, property, and inside the HVAC system. This smoke can be corrosive and potentially toxic, and it will lead to long-term smoke odors in the area.
Water damage and fire damage go hand in hand, as fire hoses flood the area at a rate of 95 gallons per minute.
Water damage will spread far beyond the fire-affected area, working downhill to flood lower floors and enter cavities and voids within the building. This will damage electrical components, insulation, drywall, personal possessions, and other property.
Within 24-48 hours of the water saturation that goes along with extinguishing a fire, mold will begin to grow.
Mold will create an extremely unhealthy environment within the home while it destroys personal property and may even create a potential structural issue. By drying the area thoroughly and immediately, this damage can be avoided.
Professional fire restoration company in Illinois
Fire damage restoration is a multi-phase process, and it's vitally important that the process begins within hours of the damage.
Mold damage can begin in as little as 24 hours after saturation of building materials. This damage can affect all organic surfaces and can be much more expensive than the fire damage itself. Waiting even a single day to begin can greatly compound the damage, cost, and restoration time needed.
HVAC System Warning!
Fire damage in your home leads to smoke and soot that gets into every nook and cranny of your home.
Tiny particles that ended up in your HVAC system during the fire can lead to irritation in your lungs and possible scarring of the alveoli. Have an HVAC professional inspect your system after any fire.
Homeowners and business owners are often anxious to begin the restoration process immediately after the fire has been eliminated. However, it's essential to seek professional advice to ensure there is no further damage to the structure. Even once the fire is out, the fire damage continues because a good portion of the material found in your furniture and flooring is synthetic. When burned, synthetics create a variety of complex chemical reactions and within a few days, these items can go from restorable to unsalvageable.
At Illinois Water & Fire Restoration, our disaster restoration professionals are experts in understanding the chemical combinations that can effectively restore and salvage belongings. We even remove smoke and soot from at-risk items such as brass, aluminum, chrome, marble, tile, and porcelain, as well as fabrics in carpets and upholstery. By calling Illinois Water & Fire Restoration, you can prevent additional expenses, eliminate odors, and save your carpets, floors, and priceless items from future disaster restoration damages.
Our restoration services will help you bring your home back to normal
At Illinois Water & Fire Restoration, our 24-hour emergency fire restoration service is available every day of the year. This ensures that we'll be on-site when you need us, helping you restore your structure quickly and competently. We also offer board-up services to secure the building and keep out unwanted intruders.
Give us a call at (630) 537-0276 or contact us online for a free estimate. For 24-hour emergency service contact us today!